"More than shopping," Shopper-Aide provides vital services to older people in the Kintyre Peninsula including the island of Gigha. Shopper-Aide supports carers, provides social activities, housekeeping, prescription deliveries and transportation to people in need. We caught up with Susan Paterson, the Founder of Shopper-Aide Ltd to ask her more about their incredible work.
What is Shopper-Aide?
Shopper-Aide has been helping Older people in Kintyre for 10 years with shopping and delivery, housekeeping and social activities. During Covid, our client base increased 100+% and along with our regular 35+ volunteers – some of whom had to shield but helped via our new phone Buddies service, were joined by many new ones who were furloughed or had a reduced workload helped us with shopping for 240 older people and finding ways to keep people connected. Thus we had 64 regular volunteers plus various businesses helping to deliver services.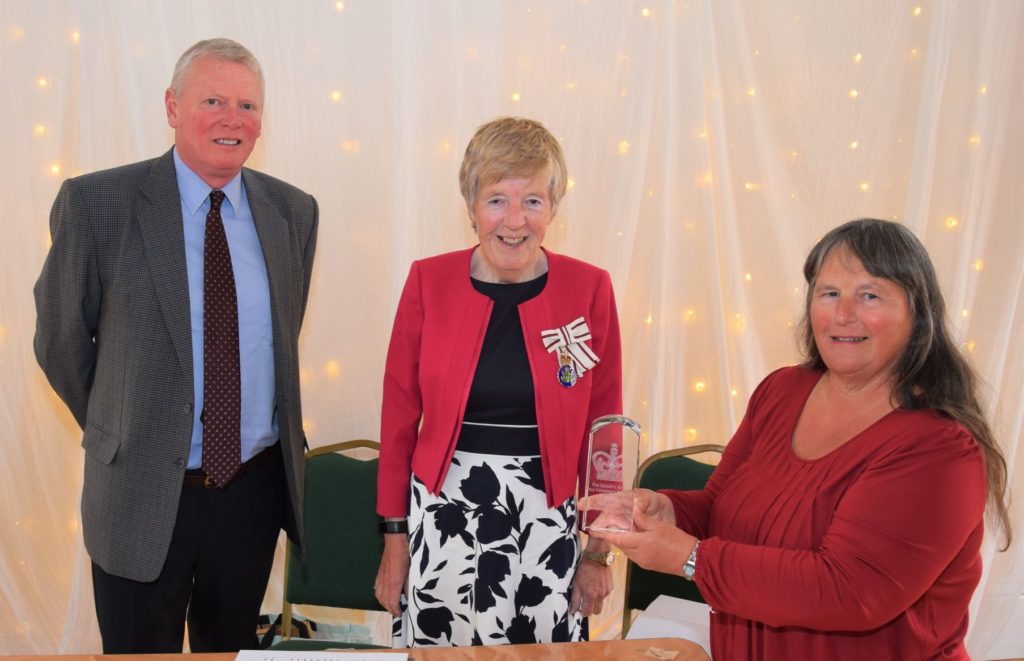 What does it mean to your group to receive the Queen's Award for Voluntary Service?
We are very proud to be recognised for our work with this award, especially in the last 18 months. It has highlighted our work to the general public and authorities and publicised what we do.
Watch the video below to see more about Shopper-Aide
Read the video transcript

Can you imagine sitting at home, with nothing to eat or feeling lonely? Perhaps you have run out of milk, bread, or even essential toiletries, that's where Shopper-Aide comes in. No one should feel stuck. We are only a phone call away, we shop for the older people of Kintyre Monday through to Friday.

Shopper-Aide started in 2011. Every morning we deliver shopping and prescriptions to our large number of clients across Kintyre. We do everything except personal care. And if we can't do it, we know someone who can. In order to keep Shopper-Aide sustainable, we sell books and fresh eggs in our office, while also relying on donations made by the public. We've been lucky enough to receive several awards over the last few years.

At present, we have three cars who all have names, they are cherry-aide, sapphire and blueberry.

Monday morning, we head up to Clachan on the west side of the peninsula with our client's shopping, which is a 40-minute drive. In the afternoon we have a befriending service where we take older people out for coffee and a bite to eat. Today, we took two ladies to Muneroy where they enjoyed some light snacks and good company. They often tell us how much they appreciate the support that Shopper-Aide offers them.

Our biggest shop is on a Tuesday, where we travel 17 miles along the east side of the peninsula to Carradale. We currently have to use two cars in order to meet the needs of our clients within the village, as they no longer have a local convenience store. In the afternoon we have our Elderberries club we run today and Thursday which is for anyone age 68 or over popular one being Sue Clayton's exercise classes.

Memory books have been a huge success with Rita creating three of her own to date.

RITA
When you think about it, they're just stuck in albums in a drawer and you never go through them. So I want to combine them into a memory book.

Helping to raise funds for Elderberries Flo Edwards. has cycled around Kintyre twice.

FLO
I did the 182 miles last year I'm 60 this year and it's lovely doing it, I really enjoy it.

We pick up most of our elderberries members and have several who are wheelchair-bound. The community recently raised funds for Shopper-Aide to enable us to buy Sapphire our wheelchair accessible vehicle.

On a Wednesdays Shopper-Aide travel to Southend to deliver shopping to our clients in and around the surrounding areas of the village. This trip covers some farm roads, which can be challenging, but wherever the clients are, we do our best to help them.

Thursday mornings. We deliver shopping and medication to Machrihanish, and the Sound of Kintyre.

In the afternoon it's Garry's Gang. a men's only club for gentlemen over the age of 60 can enjoy a day out together. They decide where they would like to go, whether it's to the pub for a pint or on a long scenic drive.

On a Friday and every day of the week, along with shopping housekeeping for our clients, the housekeeping grew through the need of the clients. As many of them asked for assistance in that particular area due to such high demand, we set up a cleaning service. Here we have two of our Shopper-Aide staff member spending an hour at each of our client's homes providing housekeeping, and supporting them in any way they can.

We have set up as a social enterprise, charity and local company by guarantee by Susan Paterson, who is our director. Its needs were identified by local community nurses, where people were coming out of the hospital and there was no food in the house. It has grown as demand increases and with the help of our wonderful staff and volunteers, we have become very much the eyes on the ground for many older people in Kintyre.
Read more about Shopper-Aide on their website.